Our summer team registration – for both junior and senior competitions – opens this SUNDAY 6TH SEPTEMBER at 8AM.
Following is some helpful information and tips to register your team:
DIVISIONS
Junior divisions include:
U7

U9 – A and B grade only (there is no C grade in U9s as most are children new to touch footy)

U11, U13, U15 – A, B and C grades

U17 – A and B grade only
Senior divisions include:
Womens A and B

Mens A, B and C

Mixed A, B and C

Sunday Opens
REGO PACK
Please familiarise yourself with the Registration Pack. We often receive a large number of enquiry emails at this time of the year and most of these can normally be answered by reading the Registration Pack and/or our MWTA Competition By-Laws.
MYSIDELINE
This year we are using a new team, player and competition registration system called MySideline (which comes about because of the relationship between the NRL and Touch Football Australia).
Because we are using MySideline you need to have an NRL Account. If you or your child(ren) play Rugby League you should have an account. It would be advisable to login and check to make sure your account is active and you can remember your password.
If you DO NOT have an NRL account please do yourself a favour and Sign Up to create one as soon as possible. This will make life much easier for you come Sunday. NRL Account Login or Sign Up here
REGISTERING YOUR TEAM
When registering your team it would be advisable to have:
An individual NRL Account (as per above)

A unique team name – as your players will have to search on the team name in the MySideline system, it is advisable to go with something unique that will be found easily

The details of a second contact for your team (whilst the system indicates that the 2nd contact is 'optional', please make sure you include another contact)

Your credit card details

Email addresses of all your team members so you can send them an individual player registration link for your team
To register your team you will need to go to the Register Your Team page and type in Manly Warringah Touch where it asks 'Find a place for your team to play':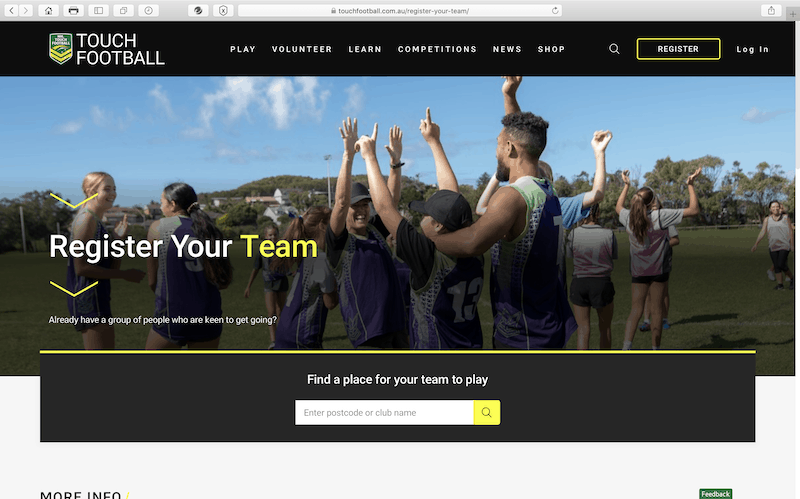 This will then list all our competitions, please select the competition you want to enter in to. Once you're in the correct division and grade select 'REGISTER':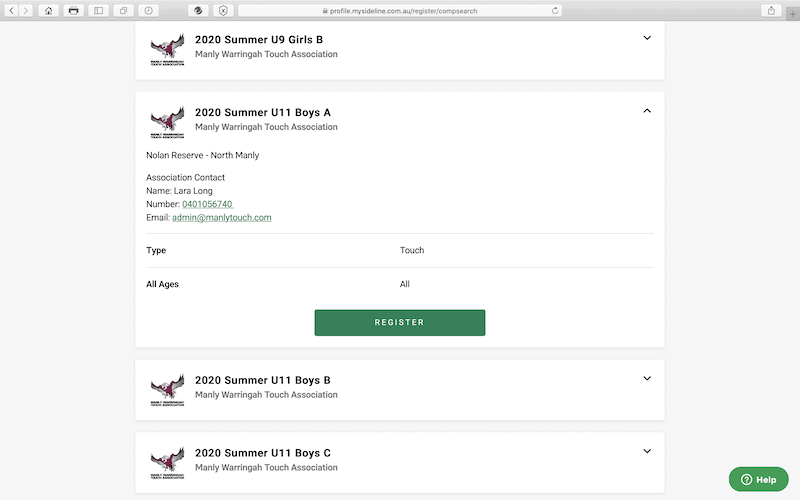 You will then be asked to login with your NRL account or sign up if you don't have a NRL account: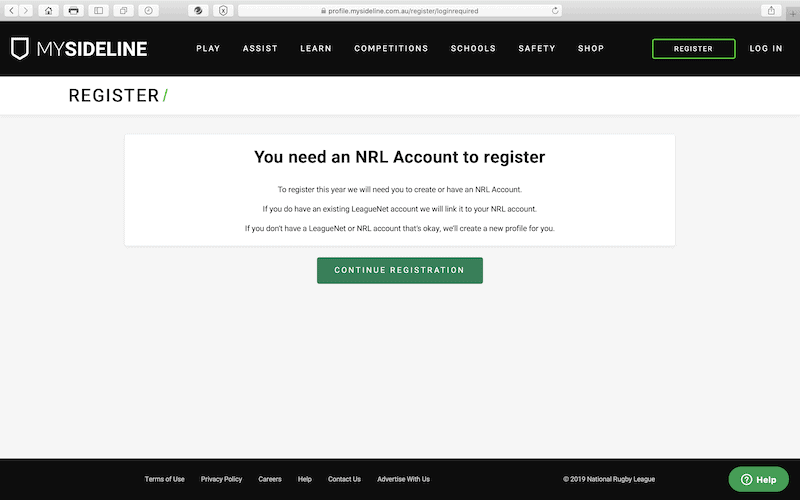 Log In with your NRL account email address and password / Facebook / Google / Apple account OR select 'SIGN UP' if you don't have an account: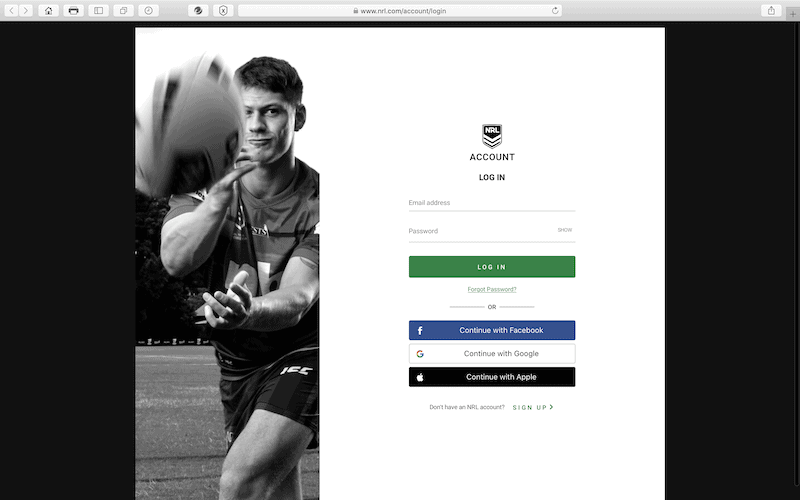 For those needing to Sign Up, complete the mandatory fields on the 'Sign Up' page. For those with an existing NRL account you will be taken directly to the 'Registration Details' screen: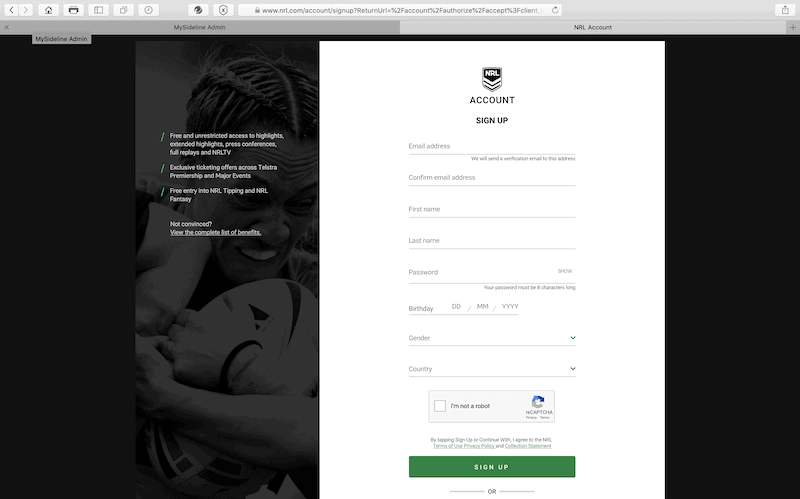 Complete the fields on the Registration Details screen, including the secondary contact (even though this is not mandatory):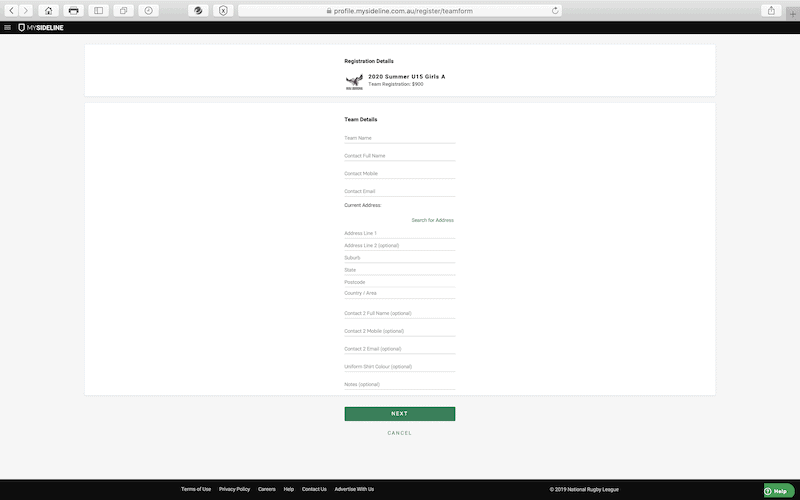 Once the Registration Details are entered you be taken to the Payment screen where you can enter your credit card details to complete the registration process: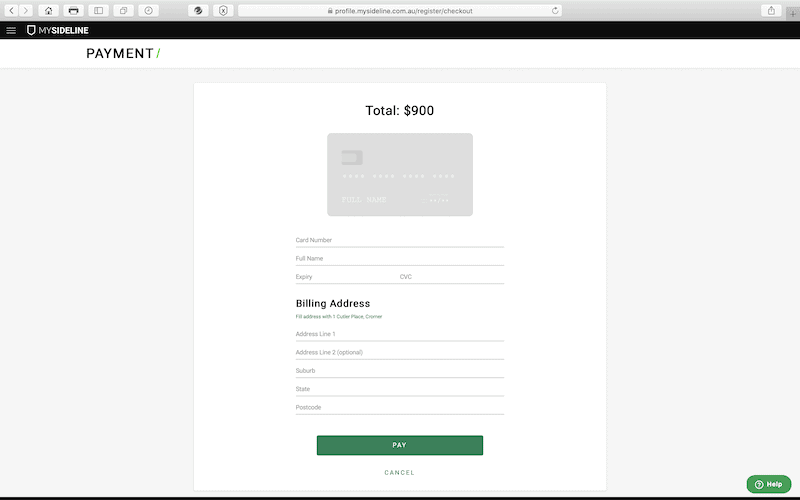 Once you have registered your team in MySideline you can invite your players to register into the team. To do this send each player the 'Team Finder' link – https://profile.mysideline.com.au/register/clubsearch – and your unique team name.