GENERAL REP INFORMATION – JUNIORS & SENIORS
CALENDAR OF EVENTS
FIELD ALLOCATIONS
Our overall field allocations for Summer 2023/24 are as follows: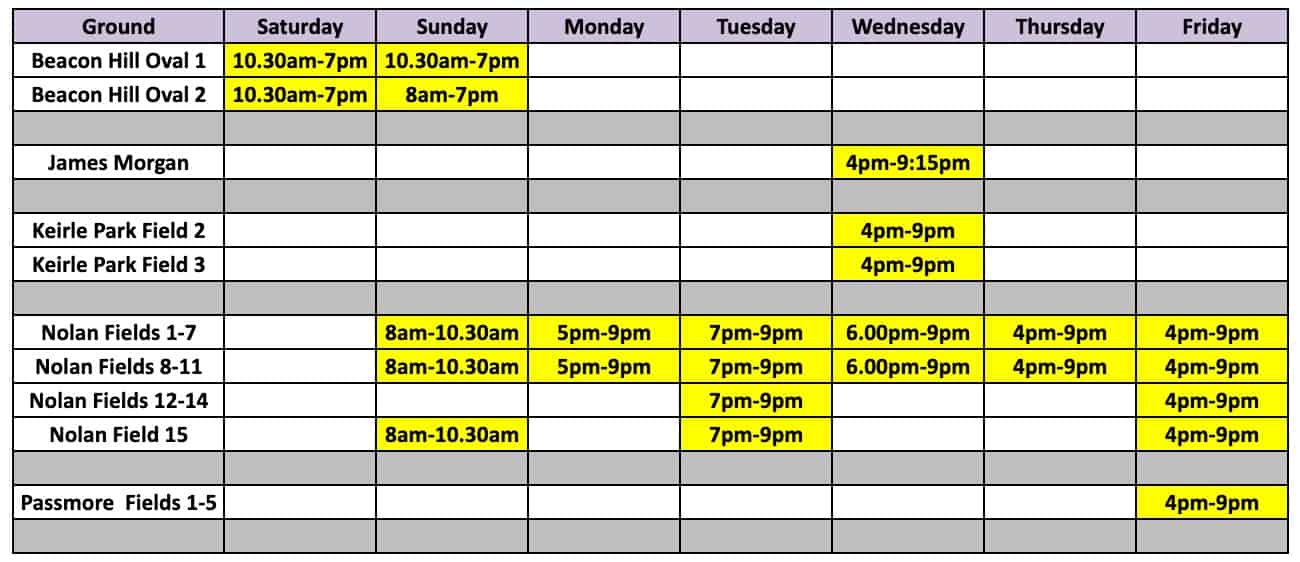 To book a field please email [email protected] or message/DM Kate Perrett with details of day/time and which location.
Requested field bookings are added to the google sheet as received, for existing bookings please see:
>> Summer 2023/24 Field Allocations & Bookings
Useful Information:
JUNIOR REP LINKS
JUNIOR GALA DAY REGO & REF LINKS
JSC & DEV OFFICIAL'S UNIFORM
All JSC and Development Team Coaches, Assistant Coaches and Managers need to order new polos and shorts, please go to our shop via the link below. There is no cost for this. We need orders in by Monday 11th December.
JSC TEAM'S PLAYING UNIFORM, LEVY & ACCOMMODATION
JSC & DEV TEAM'S ADDITIONAL UNIFORM
JSC & DEV TEAM'S MANDATORY FORMS
NSWTA YOUTH COACH GUIDELINE & DECLARATION – ALL TEAM OFFICIALS TO COMPLETE PLEASE
U10 BOYS
MWTA Code of Conduct for Parents/Players
MWTA Code of Conduct for Officials
NSWTA Code of Conduct for Parents/Players & Officials
U10 GIRLS
MWTA Code of Conduct for Parents/Players
MWTA Code of Conduct for Officials
NSWTA Code of Conduct for Parents/Players & Officials
U12 BOYS
MWTA Code of Conduct for Parents/Players
MWTA Code of Conduct for Officials
NSWTA Code of Conduct for Parents/Players & Officials
U12 GIRLS
MWTA Code of Conduct for Parents/Players
MWTA Code of Conduct for Officials
NSWTA Code of Conduct for Parents/Players & Officials
U14 BOYS
MWTA Code of Conduct for Parents/Players
MWTA Code of Conduct for Officials
NSWTA Code of Conduct for Parents/Players & Officials
U14 GIRLS
MWTA Code of Conduct for Parents/Players
MWTA Code of Conduct for Officials
NSWTA Code of Conduct for Parents/Players & Officials
U16 BOYS
MWTA Code of Conduct for Parents/Players
MWTA Code of Conduct for Officials
NSWTA Code of Conduct for Parents/Players & Officials
U16 GIRLS
MWTA Code of Conduct for Parents/Players
MWTA Code of Conduct for Officials
NSWTA Code of Conduct for Parents/Players & Officials
U18 BOYS
MWTA Code of Conduct for Parents/Players
MWTA Code of Conduct for Officials
NSWTA Code of Conduct for Parents/Players & Officials
U18 GIRLS
MWTA Code of Conduct for Parents/Players
MWTA Code of Conduct for Officials
NSWTA Code of Conduct for Parents/Players & Officials